A valuable endeavor
JONATHAN, Newport Senior Center/Sullivan County Nutrition Services
Volunteer
The importance of client interactions became very real to Jonathan the day he found a person in distress.  "When I knocked on the door, I could hear someone yelling for help, so I called 911 and waited for EMS to arrive.  Everything turned out to be OK but that really reinforced for me how valuable those check-ins are."
As a member of the organization for more than 5 years, he says he's like deliveries and conversations.  "So many people have led such interesting lives, the things they've done, the experiences they've had.  I really enjoy getting to know people.  You develop a relationship with people- you care about them, and they care about you."
While he likes pretty much every aspect of his job, he says you can't beat the greetings he gets from most people.
"They are glad to see me! "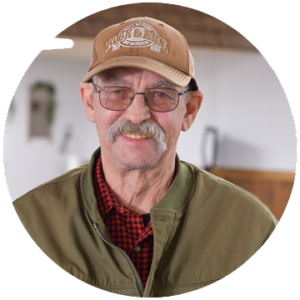 It really matters
MIKE, Newport Senior Center/Sullivan County Nutrition Services
Volunteer
Now a driver at the agency for three years, Mike's journey with Sullivan County Nutrition Services started innocently enough.  "I was retired and saw a sign on someone's car about Meals on Wheels.  I was looking for something to do and applied.  I'm really glad got involved."
While most client interactions are brief, they are very meaningful to clients.  "I know going in that I might be the only outside person someone sees in a given day," he says.  "So, I try to talk about anything, sports, movies, you name it.  But I do steer away from politics," he jokes.
As he loads his Kia Sportage (an all-wheel drive thank you!) with meals for that day's delivery, Mike says that "what we do here really matters."
"Our clients are part of this community and the service we provide is very important."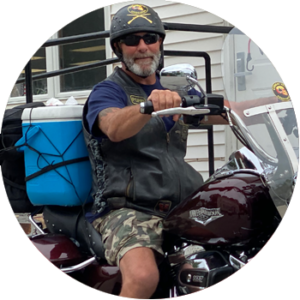 Mission on Two Wheels
SEAN, Rockingham Nutrition and Meals on Wheels
Volunteer
Retired from the military where he spent several years as an Army Ranger, MOW's driver Sean has a unique mode of transportation for meal delivery- a motorcycle. Loading his saddlebags with meals and despite all forms of foul weather, he always gets the job done. And his motorcycle is often a point of conversation with some clients. "Some of the folks I deliver to either rode at one time, or just like motorcycles," he said. "Sometimes with new clients, it can be an icebreaker."
He also jokes that with his motorcycle, "there's never a problem finding a parking space" and added that over time, he's built relationships on many levels with Meals on Wheels Clients. During his rounds, he sometimes meets fellow veterans which spurs conversations unique to those who served; he also gets to know people's pets. "In some cases, you really are part of someone's daily routine, and you know they look forward to seeing you," he says.
"When I deliver meals to people and spend some time with time with them, it really makes their day in some cases," said Sean. "I'm not there for a long period of time, but you can tell it means a lot."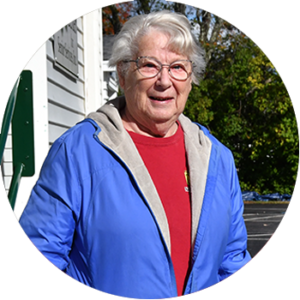 Doing the North Country Proud
PHYLLIS SHERMAN, Gibson Center for Senior Services
Volunteer
It's not unusual for Meals on Wheels volunteer driver Phyllis Sherman to drive as many as 70 miles on some of her routes.  "There's some winding roads, some hills and not all of the roads as paved," she says.  "On some days, my car gets quite a work-out."
Phyllis, 85, has lived and worked on her family farm for 58 years, along with some of her children and grandchildren.  In addition to raising animals and growing produce, the family operates the Sherman Corn Maze each fall which draws people from across the Northeast.
A volunteer for the past 10 years, she says "I love meeting and talking to people.  Some people are lonely, so I know it means a lot to them when we talk.  It's sometimes a short conversation, but very meaningful."
Beyond her volunteer service, Phyllis and her family provide large donations of vegetables from her farm each year to MOWs, which home cooks the food for delivery. In her free time, she enjoys travel with her daughter, last fall they went on a river cruise in Europe.
"This is a great community and I enjoy volunteering and helping out the Gibson Center-it's a wonderful resource," says Phyllis.  "It's nice getting to know people and hear about their families."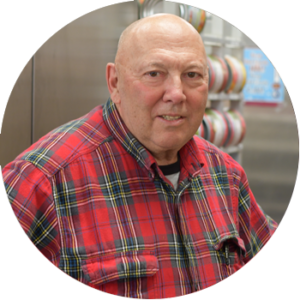 United in Caring
GEORGE AND LISA, Berlin, NH
Volunteers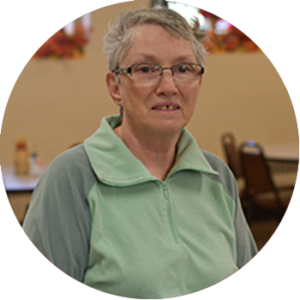 While it might not fit nicely on a name tag, the phrase "jack of all trades" fits George to a T. "Whatever they need, I'm here for," he says. "It might be minor repairs, stocking shelves, what have you. I just like to help."
A volunteer at the Senior Center for nearly a decade, George was recognized by the NH State Commission On Aging in 2021 for his volunteer service as the Coos County representative. The annual Older Adult Volunteer Award dates back 60 years and is an annual celebration of volunteerism among those 60 and older in the Granite State. "It was a nice honor to be recognized," he says. "But I'm just doing something I like to do. . .I'm glad to be of help."
And volunteer support literally runs in this family as George's wife, Lise, is also a regular volunteer at the Senior Center. A retired nurse, she is able to help with some of the clinics by taking people's blood pressure and while her volunteer hours don't always coincide with George's, she likes the fact that volunteer service is something they both have in common. "We're not always here at the same time, but odds are that one or both of us is here most every day," she laughs. "The Center is such an important gathering spot, not just for the meals and programs but also a place for people to connect."
Another of Lise's roles at the Center is to intake for new clients. "It's gratifying when we're able to get people enrolled in our programs," she says. "In many cases, they didn't know what services were available and are surprised and thank you to know what is available to help them."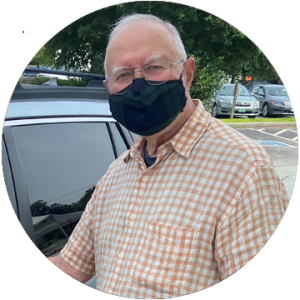 FOCUSED ON THE NEEDS OF SENIORS
LARRY KELLY, Lebanon, NH
Meals on Wheels Volunteer
With a volunteer service record of over a decade for GCSCC, Larry Kelly counts Meals on Wheels as "among the most critical services in the Upper Valley, especially for those who don't have access to transportation."
"A big part of our mission is to help the community better understand that we are here to help seniors who might not know about us." A retired attorney and former board member and chair, Larry says that the Council offers a broad range of "important programs" to older adults. "Providing meals is vital but the organization is so much more than just that. Many people have urgent needs and we've always worked to connect those who need help to services and have built a lot of great partnerships in the community in doing that."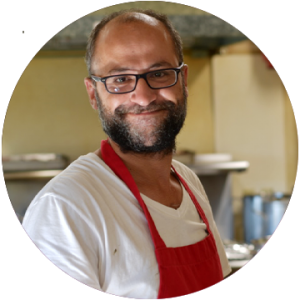 A TRADITION OF GIVING BACK
OVIE CHAREST, OSSIPEE, NH
Meals on Wheels Volunteer
The Meals on Wheels mission runs deep for Ovie Charest, who helps prepare meals for delivery and community dining. "My mother was a Meals on Wheels driver, as were some of her friends," he says. "So I grew up hearing her talk about the mission and what it meant to the clients. . .I knew it was something I wanted to be part of." Having worked in the food service industry, Ovie brings a solid background to the bustling kitchen. On this day, he, other staff and volunteers participate in a whirlwind of activity as they prepare hot meals, package food for delivery, and prepare for community dining. "This is the perfect job for me." he says. "I love what I do, I work with tremendous people, and I'm part of a wonderful asset to our community."
"I love it all!"