In 1977, seeking to address a critical community need, Meals on Wheels of Hillsborough County (HCMOW) began operations. In that first year, we provided 149,338 meals and wellness checks. In less than a decade, the need for our services more than doubled and by 1987, we were providing over 275,000 meals and wellness checks a year.
Fast forward to the present day and HCMOW works with licensed kitchens to distribute more than 7,000 nutritious meals each week. Meals are provided via core nutrition sites, community dining locations, and partnered restaurants throughout Hillsborough County, or delivered as Meals on Wheels to older, homebound, and disabled adults.
Our daily mission is dedicated to promoting better physical, mental, and social well-being of older adults. From the inner cities of Manchester and Nashua to rural communities in the Monadnock Region, we provide nutritious meals, health education, opportunities for social interaction, and other related services to help improve the lives of those we serve.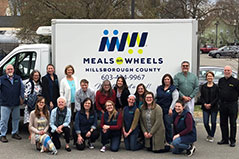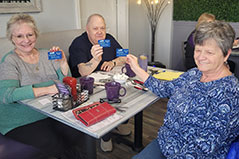 Home Delivery/Community Dining Locations:
SHARE Outreach 1 Columbus Ave, Milford
The Meetinghouse 12 Reed St, Goffstown
Carpenter Center 323 Franklin St, Manchester
Senior Activity Center 70 Temple St, Nashua
Vose Farm Business Center 9 Vose Farm Rd #130, Peterborough
Click here for a list of current Community Dining Locations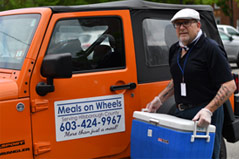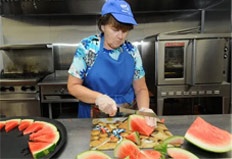 Towns Served:
Amherst, Antrim, Bedford, Bennington, Brookline, Deering, Francestown, Goffstown, Greenfield, Greenville, Hancock, Hillsborough, Hollis, Hudson, Litchfield, Lyndeborough, Manchester, Mason, Merrimack, Milford, Mont Vernon, Nashua, New Boston, New Ipswich, Pelham, Peterborough, Sharon, Temple, Weare, Wilton, Windsor
Zip Codes Served:
03018, 03031, 03033, 03043, 03045, 03047, 03048, 03049, 03051, 03052, 03054, 03055, 03057, 03060, 03061, 03062, 03064, 03070, 03071, 03076, 03082, 03084, 03086, 03101, 03102, 03103, 03104, 03105, 03109, 03110, 03111, 03244, 03281, 03440, 03442, 03449, 03458, 03468