The Meals on Wheels program provides home-delivered meal services to older adults and adults with disabilities. Our mission is to assist older adults and adults with disabilities to remain in their homes for as long as possible in an independent and dignified manner. We provide nutritious meals delivered by trained drivers, daily safety checks, resource information, and peace of mind for the participants and their loved ones. The program successfully helps to reduce or prevent malnutrition, ensure safety, reduce isolation and to keep folks at home where they prefer to be.
In addition to these hands-on services, CAPBM works to create partnerships and collaborations to connect those it serves to critical programs and support services. These include healthcare providers, town welfare, police and fire departments, community mental health centers, the private sector, elected officials and a broad range of local and state wide senior program and services.
Our clients and their families are at the center of all that we do and our daily mission as a MOWs provider is to provide a supportive and nurturing environment to ensure that seniors and homebound adults can remain safe at home for as long as possible.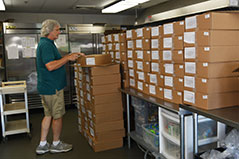 Locations
Alton Senior Center, 7 Pearson Road, Alton, NH 03809. (603) 875-7102
(MOW, Congregate)
Mountain View Senior Center, 134 E. Main Street, Bradford, NH 03221. (603) 938-2104
(MOW, Congregate, RTS)
Horseshoe Pond Place, 26 Commercial Street, Suite 105, Concord, NH 03301. (603) 931-0956
(MOW, Congregate)
Laconia Senior Center, 532 Main Street, Laconia, NH 03246. (603) 524-7689
(MOW, Congregate, RTS)
Pittsfield Senior Center, 74 Main Street, Pittsfield, NH 03263. (603) 435-8482
(MOW, Congregate, RTS)
Suncook Senior Center, 8 Whitten Street, Allenstown, NH 03275. (603) 485-4254
(MOW, Congregate)
Tilton Senior Center, 11 Grange Road, Tilton, NH 03276. (603) 527-8291
(Congregate)
TRIP, 12 Rowell Drive, Franklin, NH 03235. (603) 934-4151
(MOW, Congregate, RTS)
Towns Served:
Allenstown, Alton, Andover, Barnstead, Belmont, Boscawen, Bow, Bradford, Canterbury, Center Harbor, Chichester, Concord, Danbury, Dunbarton, Epsom, Franklin, Gilford, Gilmanton, Henniker, Hill, Hooksett, Hopkinton, Laconia, Loudon, Meredith, New Hampton, New London, Newbury, Northfield, Pembroke, Pittsfield, Salisbury, Sanbornton, Sutton, Tilton, Warner, Webster, Wilmont
Zip Codes Served:
03046, 03106, 03216, 03218, 03220, 03221, 03224, 03225, 03226, 03229, 03230, 03234, 03235, 03237, 03242, 03243, 03246, 03247, 03249, 03253, 03255, 03256, 03257, 03258, 03260, 03263, 03268, 03269, 03273, 03275, 03276, 03278, 03287, 03301, 03302, 03303, 03304, 03305, 03307, 03809, 03810