Sullivan County Nutrition Services provides a broad range of programs and services for adults 60 years of age and older and those with disabilities.
Services
Meals delivered to all 14 towns in county
Grab and go at 3 locations
Wellness and social offerings in partnership with Newport Senior Center
Senior Transportation
Social services connections and outreach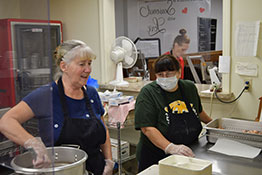 Thanks to a group of dedicated staff and volunteers, we are able to serve all 14 towns in Sullivan County and enroll new clients for home-delivered meals in 24 hours or less.
Our long-time partnership with the Newport Senior Center gives our clietns access to a varied list of wellness and social offering as well as serving as a site for our main kitchen and congregate dining.
We are also beyond thankful for a caring community who supports our work via personal donations, financial support from towns, and by sponsoring key programs and events.
Locations:
Grab and Go Meal Sites: Newport Senior Center, Grace River Property, 136 Maple Avenue, Claremont, and Earl Bourdon Centre (residents)
Towns Served
Acworth, Charlestown, Claremont, Cornish, Croydon, Goshen, Grantham, Langdon, Lempster, Newport, Springfield, Sunapee, Unity, Washington
Zip Codes Served
03601, 03603, 03743, 03745, 03773, 03752, 03753, 03602, 03605, 03773, 03770, 03284, 03782, 03603, 03280