Rockingham Nutrition and Meals on Wheels helps older and/or disabled adults maintain their health, well-being, and independence.
For more than four decades, we have been proud to serve all 37 towns in Rockingham County with the following services:
Services
Home-Delivered Meals – a nutritionally balanced meal, a wellness check, and a brief chat with one of our friendly meal delivery drivers.
Congregate Luncheons – join us at one of our 12 luncheon centers that welcome folks 60 years of age and over for lunch, activities, and conversation.
Transportation – we provide transportation for adults 60 years of age and older to and from luncheon sites, medical appointments, and shopping trips. Over 300 people currently ride with us.
Our team of staff and volunteers serves more than 1,500 people each week!
Learn more at: https://rockinghammealsonwheels.org/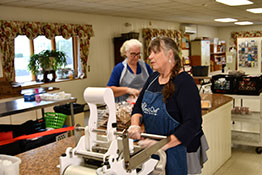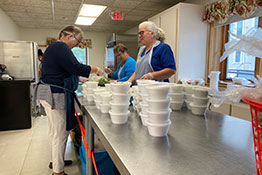 Locations
Derry, Epping, Exeter, Hampton, Londonderry, Newport, Plaistow, Portsmouth, Raymond, Salem, Seabrook, and Windham
Towns Served
Atkinson, Auburn, Brentwood, Candia, Chester, Danville, Deerfield, Derry, East Kingston, Epping, Exeter, Fremont, Greenland, Hampstead, Hampton, Hampton Falls, Kensington, Kingston,  Londonderry, New Castle,  Newfields,  Newington, Newmarket, Newton, North Hampton, Northwood, Raymond, Rye, Salem, Sandown, Seabrook, South Hampton, Windham
Zip Codes Served
03811, 03032, 03833, 03034, 03036, 03819, 03037, 03038, 03827, 03042, 03841, 03842, 03844, 03848, 03053, 03854, 03856, 03857, 03858, 03801, 03861, 03862, 03077, 03079, 03087, 03870, 03873, 03874, 03827, 03885, 03840