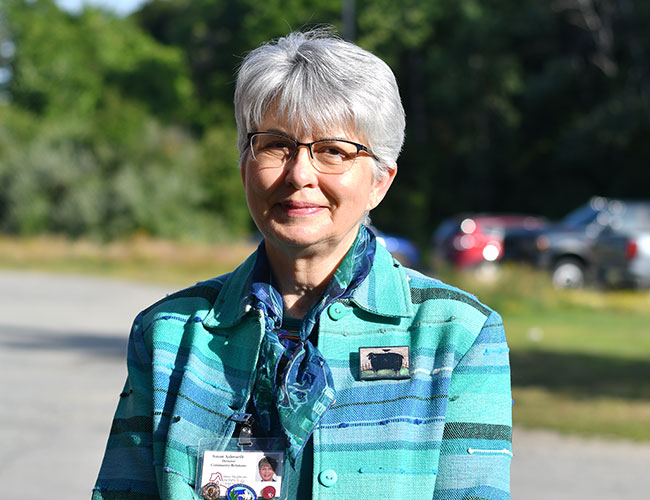 Susan Ashworth
Director of Community Relations, Home Healthcare, Hospice and Community Services (HCS)
With a wide-ranging service area and nearly 20 meal delivery routes that can comprise city blocks and remote areas of the Monadnock Region, Susan Ashworth knows it's essential to connect older adults to the programs they need to remain independent.
She also oversees the Healthy Starts, Senior Nutrition and Transportation programs for the agency, a career that has now spanned over 40 years. "The needs of those we serve are constantly changing and as a result, we work to innovate and add programs as needed to support older adults."
At HCS that means, hosting a broad range of on-site services such as foot care programs with the VNA or the opportunity for family care givers to connect with social workers for information and advice.
Like many agencies, HCS was stressed by COVID-19 from an operational perspective but also with clients being isolated. To mitigate some of those issues, HCS partnered with many community groups to deliver holiday gifts, make hand quilted placemats for participants, give extra food, and assisted the Jaffrey Public Library by connecting library volunteers to deliver books to participants.  Many of these wonderful and creative partnerships have continued and certainly enhance the program.
"There's no 'one size fits all" model that works for everyone. That's why we seek to offer as broad a range of programs as possible and try to best align resources with one's specific needs.,
Susan adds that "so much of this work is all about creating relationships and that is so true with our MOW's drivers. You can never underestimate the power and importance of the word 'hello.'"
Brenda Burns
Executive Director, Newport Senior Center/Sullivan County Nutrition Services
In a career that has now spanned nearly 30 years, Brenda Burns has pretty much seen it all and done it all at Sullivan County Nutrition Services. "From working in the kitchen to operational support to enrollment and outreach to delivering meals, I've had a lot of jobs here," she said. "And I've enjoyed all of them." Now as Executive Director of Sullivan County Nutrition Services, Burns and her team of staff and volunteers support more than 500 clients each day between home delivery and the popular 'grab and go' program where clients can stop by and pick up meals which can be heated up at home. Now serving congregate meals at the Newport Senior Center. Housed out of the Newport Senior Center, the program also connects older adults to transportation, exercise programs and a host of other supports. While congregate dining has been slow to return since the pandemic, the program has been offering dine in breakfast on selected Saturdays.
She shared that some older adults on limited incomes are often forced to make choices between food or medication or keeping the power on. Burns calls that dilemma "heart-breaking" and she and her team work to connect those in need to other services and supports as needed, like Service Link. The greater Newport community is "caring and closeknit" she says. "Our board is a great example of that. They've stepped up to support 'grab and go' and delivered meals as well. They are also impactful fund raisers."
While the work is not without challenges, there's no place Burns would rather be. "How we treat older adults in need says a lot about our community. Much of the time when we get requests for meals, we can usually get people on the program the same day.
"There are people in the community who need help and that's why we're here," said Burns. "Some need more help than others. We want to serve as a resource for people to stay in their homes as long as possible."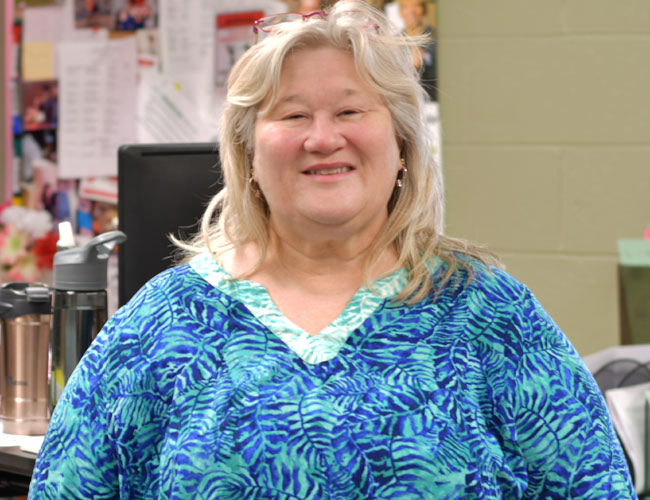 Jaymie Chagnon
Executive Director, Strafford Nutrition & Meals On Wheels
"Seeking to make a difference" is the way Jaymie describes her role at Meals on Wheels. With over 30 years of experience leading multiple organizations, she has a broad perspective on the need in the community. "Many of those we serve aren't necessarily seeking to bring attention to themselves, but they need help."
Like many agencies impacted by COVID-19, Strafford Nutrition Meals on Wheels found itself changing on the fly. "Our team is awesome, and they rose to the challenge every time," Jaymie said. "When we had to close congregate dining, we knew many of our clients would miss those social interactions, so we took extra care on the check-ins during meals deliveries. "Between our staff and volunteers, we're very much a work family and we try to carry that message forward to our clients."
She says that creating and nurturing community connections is vital to supporting seniors and homebound adults. "The term 'it takes a village' really is appropriate. Our agency alone can't do everything and that's why outreach and collaboration with other social services agencies and the communities is important."
With the 4th largest population of older adults in NH, the need is certainly in Strafford County. Like virtually all her leadership peers, Jaymie's day job is an exercise in juggling operational needs, raising funds, and creating awareness with numerous stakeholders such as elected officials and town leaders. "We spend a lot of time educating people about the need in the community," she says. "The better-informed people are the better environment we can create for seniors across our service area." "That is what drives all of us."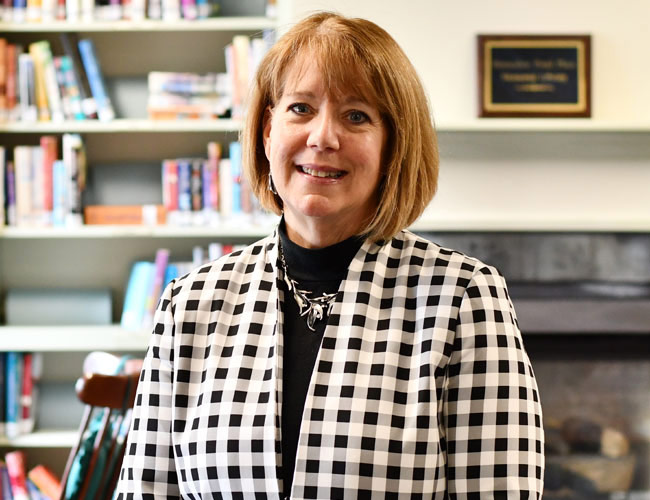 Suzanne Demers
Director of Elder Services Programs, Community Action Program of Belknap-Merrimack Counties, Inc.

As Director of Elder Services at Community Action Program Belknap- Merrimack Counties, Inc.  Suzanne oversees a broad range of interconnected programs all designed to keep seniors and homebound adults safe and healthy. The mission of Elder Services is to promote, through our Senior Services and multi-purpose Senior Centers, the physical, emotional, and economic well-being of older adults and to promote their participation in all aspects of community life. A comprehensive array of services is provided for older adults in many of our communities in Belknap and Merrimack Counties. We offer numerous health and wellness, nutrition and socialization, health maintenance, educational opportunities, arts and humanities, volunteerism, recreation, and transportation services.
Beyond the core services provided, Suzanne seeks to dispel the "stigma" often attached to Meals on Wheels. "People often do not want to ask for the support they need to remain in their homes.  Our team of compassionate staff build trusting relationships that break the stigma of receiving a meal at home."
Suzanne's parents were Meals on Wheels drivers in Grafton County where she grew up.  This is where she learned the importance of the mission for Meals on Wheels and those early lessons drive her today. "We foster independence and seek to provide resources to help our clients avoid hospital admissions or an assisted living facility in some cases."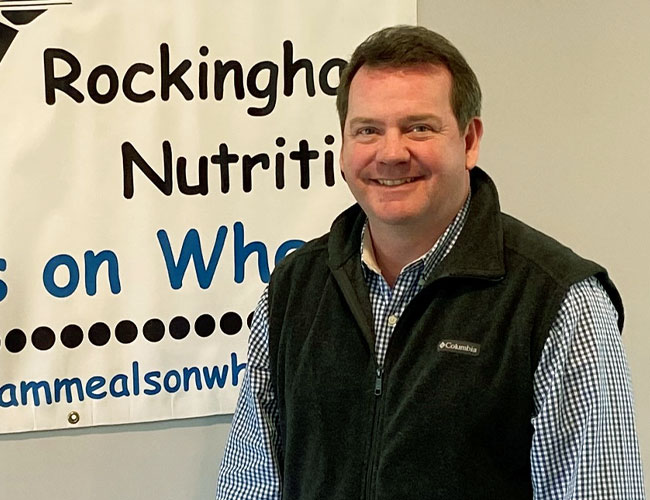 Tim Diaz
Hitting the ground running-MOW's Executive Director Tim Diaz bring private sector experience and board history to his new role
There is no such thing as an average day in Tim Diaz's world and he wouldn't have it any other way. "I love the variety and challenges that come with this role," he says. "Every day is a new opportunity to help someone."
Tim became the Executive Director of Rockingham Nutrition and Meals on Wheels in early 2023, having previously worked for many years in the corporate sector at Timberland- where his focus areas included retail management and e-commerce.  He also previously served as a volunteer board member for Meals on Wheels.
"I was fortunate to be able to get some great insights as a board member prior to joining the team here," he says. "I had the chance to get to know the mission and work from the inside as well as better understand the profound impact we have on those we serve."
As is the case with many of his colleagues across the state, Tim's daily work balance trends among operations, outreach, and fundraising. "Our goal with enrolling new clients is to be able to start delivery within 24 hours after intake," he says. "And it is a point of pride here that we can do that. But with an uptick in requests and overall inflation, it is important that we raise funds to keep up with needs."
He credits the staff, volunteers, board, and community partners with a "singular focus on those we serve. For about 80% of home delivery clients, the meal we serve is the main meal of their day— and for many, the driver might be the only person they see on that day. It really goes beyond a meal- that interaction is so very important."
Tim added that handing someone a meal and telling them "See you tomorrow," are now his three favorite words. "They know we'll be back and that someone cares. That means everything," he said.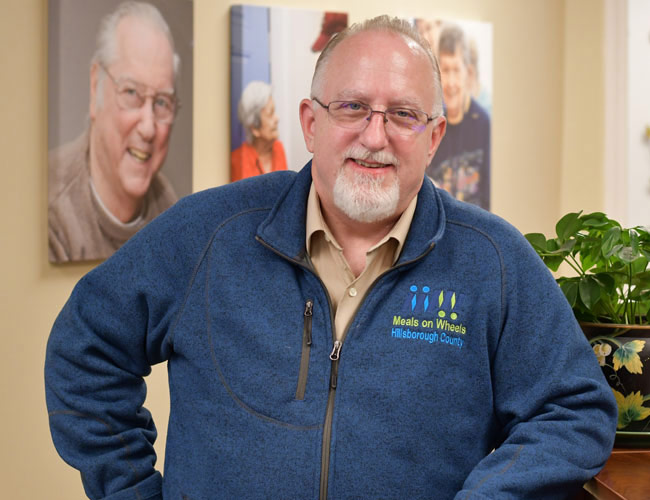 Jon Eriquezzo
President/CEO, Meals on Wheels of Hillsborough County
With over three decades of leadership experience in NH's non-profit sector, Jon has had an extensive range of experiences, particularly in the areas of disability and older adults. He calls Meals on Wheels of Hillsborough County, "the best job I've ever had- by far"
In addition to his direct experiences, Jon was the primary care giver for both of his parents and thus has a very deep understanding of not only the health and nutritional need of seniors but also the critical importance of social interactions. He frequently visits new clients not only to get a sense of customer service but also to see how they're doing.
"We know social isolation is a key risk factor and that before the pandemic, about 20% of our clients would see only the Meals on Wheels Driver each week," Jon stated. "As the pandemic went on, that number was estimated to be as high as 60%. Let that sink in for a moment. 60% of people in our state who's only outside contact in a given week of one of our drivers. To me, that check in and conversation-even for a short period of time – is one of the most critical things we do an agency."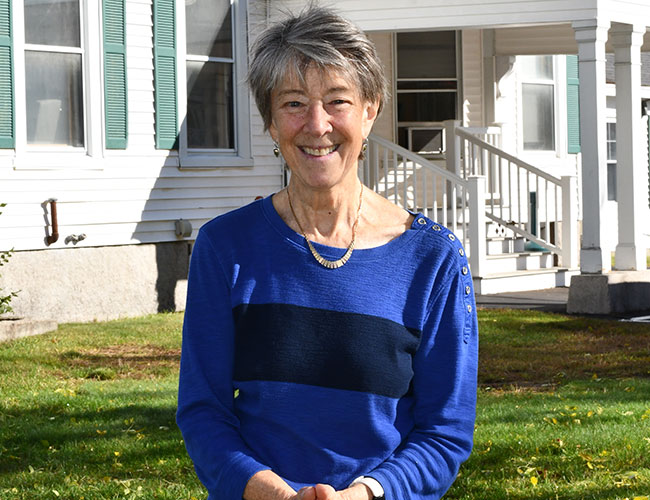 Marianne Jackson, MD
Executive Director, Gibson Center For Senior Services
Located in the heart of the Mount Washington Valley, the Gibson Center For Senior Services is a hub of activity for most of the hours of the day. And it's all directed at supporting older adults in as many ways as possible. "We put the health and welfare of older adults at the center of all that we do," said Marianne Jackson, MD, Executive Director. "From home delivered meals to congregate dining, to access to contractors who can make home modifications, to computer literacy training, and connections to other needs, we seek to provide the resources for people to age on their own terms.
Jackson is happily in the middle of her "second career" as leader of the Gibson Center. She previously enjoyed a long career as an OB/GYN in the North Country and worked at Memorial Hospital in North Conway for several years. Along the way she got her master's degree in public health. She then served on the board of the Gibson Center and later became the Executive Director. "As a provider in the area for many years, I certainly knew about the Gibson Center and got an insider perspective from serving on the Board. I then became an employee and it's been a wonderful journey ever since. I truly love this work."
At the heart of the Center is an "amazing group of staff and volunteers," Jackson says. "With the ups and downs of COVID-19 the past few years, we were certainly challenged but never missed a beat when it came to taking care of our clients." Beyond the core services the Center provides, Jackson continues to seek other opportunities for older adults. "We have a severe shortage of affordable housing in our state and this hits seniors particularly hard. Yet we know there are older adults living alone who could benefit from home sharing or other initiatives that would help reduce social isolation and costs.
Other states are making this work and I think we can do the same in NH." Jackson and the Gibson Center have played a pivotal role in the Mount Washington Valley becoming an Age Friendly Community as designated by AARP. "It certainly didn't happen overnight," she says. "But it was clear from the start that there was a real sense of collaboration in this community and people wanted to come to the table to strategize how we could provide the best possible environment for older adults."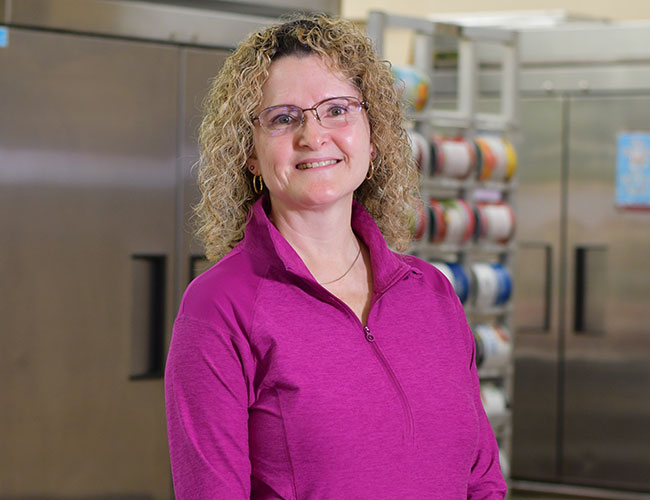 Angela Johnson
Executive Director, Senior Meals of Coos County and the Berlin Senior Center
When looking back at non-profit career that has now spanned over 30 years, Angela Johnson says that "things fell into place for me many years ago and I've never looked back." As Executive Director of Senior Meals of Coos County and the Berlin Senior Center, Johnson is well entrenched as a leader for the region. "Early on, I had seen what some of my older relatives were facing as they aged. They needed help. That was when I knew I wanted to pursue this work. It was a comfortable place to be."
The hub of Johnson's program is the Berlin Senior Center which offers congregate meals and a broad range of supports for older adults including access to ServiceLink Counselor. Sit-down meals are also provided at Colby Commons in Colebrook and Jefferson Road in Whitefield. "Annually, we serve over 1,000 people," said Johnson. "And due to the geography of some areas of the North Country, it can be challenging to get to some of our clients. But our staff and volunteers are determined and get the job done. We know that in many cases, we are someone's life line."
Like many agencies, the pandemic presented myriad challenges. "We had to innovate on the fly," she says. "And quite often, we had to go to plan B, plan c and so on!"
Kathleen Vasconcelos
Executive Director, Grafton County Senior Citizens Council, Inc.
Covering every town across sprawling Grafton County, Grafton County Senior Citizens Council (GCSCC) views its role as "whole person connections to care and services."
This, according to Kathleen, who has led the agency since 2018. Operating out of 8 senior centers, as well as two ServiceLink locations, GCSCC has served the community for nearly 50 years. Currently they serve over 8,000 seniors with services from meals (home delivery and grab and go), to transportation, and outreach and counseling). "There's no 'one size fits all' model for caring for our clients," she says. "Their conditions may vary and as such we try to adapt to meet their specific needs."
Linkages among her agency and others are part of the fabric of GCSCC's mission. "For instance, through the RSVP Good Morning program, volunteers call older adults daily to check on them. If an issue is identified, we can take action proactively."
Part of her leadership role is to work with her board to identify emerging issues. "We seek to anticipate future needs and be flexible as an agency." Nowhere was that more evident than during the pandemic. "We are very good at making mid-stream adjustments," she said.
One wonderful example of embracing the new normal is the "drive-through" meal pick-up at GSCSC's eight senior centers. On a recent summer day in Lebanon, clients lined up to get cups of watermelon cubes, a ready to eat meal, and could choose items from a fresh vegetable table, all from the comfort of their cars. And there was music to boot as Roger, a longtime volunteer and former delivery driver, serenaded the clients with a wonderful array of country music tunes.
When referring to the GCSCC staff, volunteers, and board, Kathleen says they are all "united in purpose. Our daily mission is to provide programs and services that support older adults' health, dignity, and independence."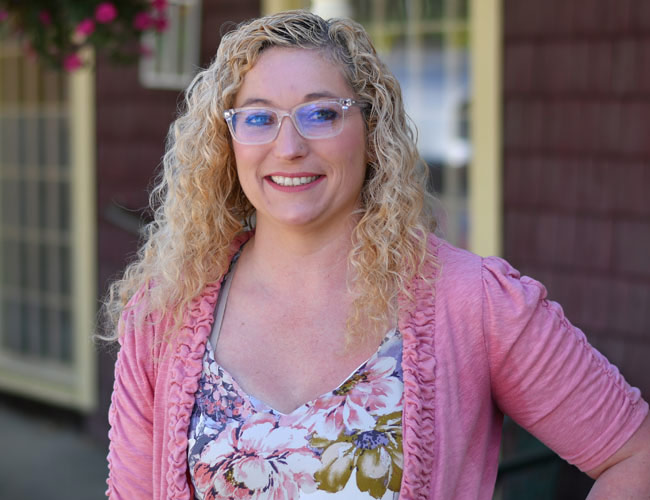 Misty Ryder, BBA
Executive Director, Ossipee Concerned Citizens
While recently named as Executive Director at Ossipee Concerned Citizens, Misty Ryder has an extensive background in the social services sector and is well connected to the community at large. "Being chosen to lead this agency is an honor and a challenge I'm very much looking forward to. Food insufficiency among seniors is a growing problem in our community and in Carroll County. To be able to address that need, and provide the important social contacts that are part of meal delivery is so important."
An Ossipee native, Misty sees the benefits her agency provides to seniors in terms of meals being delivered but also as connector to other services. "We have a great relationship with the area providers, elected officials and other non-profits," she says. "We also have a very committed Board of Directors who are very generous with their time and connecting us to funding sources."
When it comes to some of the more common misnomers about Meals on Wheels, Misty says her agency works to correct the narrative. "It's ok to ask for help," she says. "And many older adults or those who are housebound may not think they qualify for meal delivery. Our goal as an agency is to change that perception. In fact, one way for older adults to remain independent and at home is to sign up for our services."
"We don't want to be the area's best kept secret!"