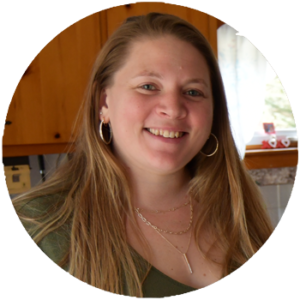 Make every call count
CJ, Newport Senior Center/Sullivan County Nutrition Services
Elder Support Services Supervisor
If one is a client at Sullivan County Nutrition Services, odds are you will have met CJ either in person or over the phone.
"This is a great job," she says.  "Sometimes when I get calls from clients or family members, there's some stress, fear, and worry.  Once we can get someone enrolled and set up for meal deliveries, that pressure goes away.  To be able to play a part in that is gratifying."  As she is plugged into other programs and services across the community, she also can connect those in need with other resources.
When she talks to new or prospective clients and family members, people tell CJ that they didn't know Meals on Wheels existed or didn't think they qualified.  "Sometimes we're the best kept secret in town, so we tell everyone we meet to spread the word."
She added that the COVID-19 pandemic has increased social isolation among older adults.  "Sullivan county is fairly remote," she says.  "Some people were a little cut off prior to COVID and it only gotten worse.  That is one reason why this work is so critical."
CJ has been with the organization for 3 years and says "I love our clients and enjoy hearing their stories.  I know being that voice on the other end of the phone means a lot to them, so I make every call count."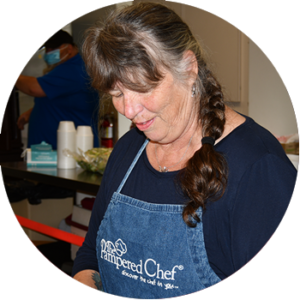 Caring Deeds
PATTI, Rockingham Nutrition and Meals on Wheels
Staff
Motivated by her own experiences with her parents having been MOW's clients, Patti brings that history to her work at the Exeter center. "I know first-hand the positive impact the deliveries had for my folks and other relatives. It is not just the food; it is the companionship."
Retired from a career in the banking industry, Patti calls the Exeter Center "my happy place. The atmosphere is wonderful. We have a great team here and the staff and volunteers are united in helping to take care of older adults," she says." And we laugh a lot along the way."
In addition to serving as a gathering place for congregate dining (still on the rebound post-pandemic), the center hosts other activities such as chair exercise and bingo. They also offer transportation for shopping trips and doctor visits.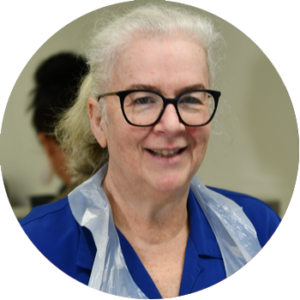 Giving Back
ALICE, Rockingham Nutrition and Meals on Wheels
Staff
A member of the MOWs team for 6 years, Alice says she enjoys all aspects of her job coordinating staff and volunteers and ensuring all the meals come out in a timely fashion.
"We're a wonderful team and all here for the same reason," she says. "In some cases, our family members have been clients, so we have first-hand knowledge of the impacts of meals being delivered."
"Very often we're helping people be able to stay at home, and that's where they want to be," said Alice. "Our clients have worked hard their whole lives and now need a little help. That is why we are here."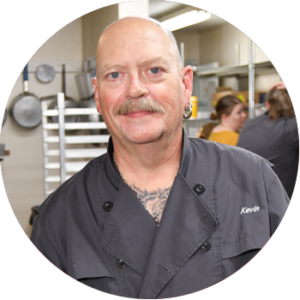 Making A Difference
KEVIN, Gibson Center for Senior Services
Prep Cook
Kevin shares that his Gibson Center career began with answering an ad in the local paper.  The retired machinist had moved to the area and was looking for his next challenge.  "When I came, I wasn't sure how long I'd stay," he said.  "But this work and who we are helping really means a lot to me. So, I wanted to stay."
Kevin has now been working in the kitchen at the Gibson Center for nearly 20 years and hasn't looked back.  "The work is fun; the people are great.  We also get good feedback from the clients."
"It's wonderful to know that we're making a difference in someone's life."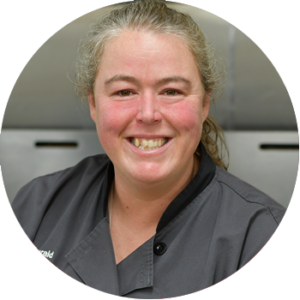 It's fun to come to work each day
BECKY, Gibson Center for Senior Services
Nutrition Director
To say the cooking team has several balls in the air each day is a bit of an understatement.
"Each day we're preparing about 90 meals for delivery and several more for congregate dining," said Becky, Nutrition Director at the Gibson Center.  "And of that number, there are about 15-20 tailored meals- all made for scratch."
The food prep starts at 3:00 AM each weekday morning she says and the remainder of the morning is a well-choreographed operation among staff, volunteers, and others.  "We don't stop!" she jokes.
"At the end of the day, we want to make sure our clients get what they need," she says.  "If there is bad weather in the forecast which may impact deliveries, we give people extra meals to help them get through those times."
Becky shared that the cause is what drew her to the Gibson Center and the connections with older adults remind her each day about the value of the work.  "We have a great team and they're all dedicated to our clients," she says.  "It's fun to come to work each day."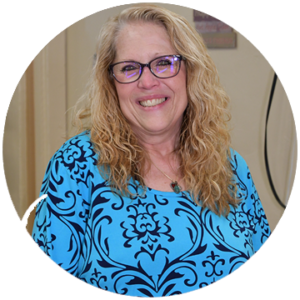 Committed To Caring
LELIA VILLENEUVE, Senior Meals of Coos County and Berlin Senior Center
Site Operations Manager
Having joined the agency over 35 years ago, it's safe to say that Lelia knows the organization "inside and out.  "Over the years, I've done pretty much every job here.  From preparing meals to delivery to most things in between.  We all step up to meet the needs of those we serve."
A point of particular pride is the role the center played during the pandemic.  "We didn't miss a day," she says.  "We had staff out some days and volunteers who couldn't come in.  Our goal was to continue to get meals out for delivery and we were able to do that."
Lelia praises the legacy of "volunteer power" and donor support the Center has built up over the years.  "This is close knit community and people are always stepping up when there's a need. That's not to say that we don't have challenges like many agencies, but our team always rises to the occasion."
Supporting older adults in the North Country has truly become her life's work.  "I love working with seniors," she said.  "Everyone has a story to tell and they have had very interesting lives.  I feel great at the end of each day to know that we're making a difference."
"I love what I do!"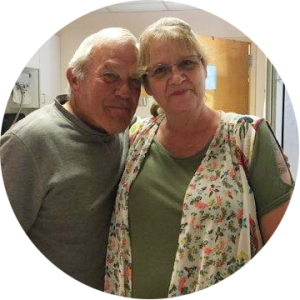 UNITED BY MISSION
DIANNA MULVEY, Strafford Nutrition Meals on Wheels
Meals on Wheels Staff
Prior to joining SNMOW, Dianna did not know much about the service or the need.  "There is a lot of need out there and this is so much more than just a meal.  We provide social contacts for our clients.  Sometimes we might be the only outside person they see each week."
She joined the agency several years ago and has done a variety of jobs including food prep and processing, packing, meal deliverer, and currently is the the Rochester Site Manager.  Today, she was filling in for a regular driver covering a  route that stretches across Rochester, Farmington, Stafford, and Milton.
"We're like a little family," is how Dianna describes the team at SNMOW.  "All of us are here for the same reason- the clients.  This is an awesome team!"