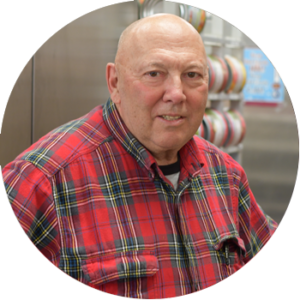 United in Caring
GEORGE AND LISA, Berlin, NH
Volunteers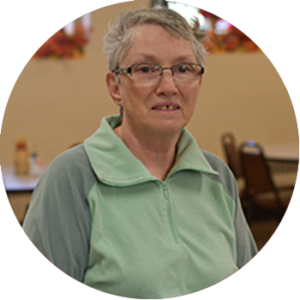 While it might not fit nicely on a name tag, the phrase "jack of all trades" fits George to a T. "Whatever they need, I'm here for," he says. "It might be minor repairs, stocking shelves, what have you. I just like to help."
A volunteer at the Senior Center for nearly a decade, George was recognized by the NH State Commission On Aging in 2021 for his volunteer service as the Coos County representative. The annual Older Adult Volunteer Award dates back 60 years and is an annual celebration of volunteerism among those 60 and older in the Granite State. "It was a nice honor to be recognized," he says. "But I'm just doing something I like to do. . .I'm glad to be of help."
And volunteer support literally runs in this family as George's wife, Lise, is also a regular volunteer at the Senior Center. A retired nurse, she is able to help with some of the clinics by taking people's blood pressure and while her volunteer hours don't always coincide with George's, she likes the fact that volunteer service is something they both have in common. "We're not always here at the same time, but odds are that one or both of us is here most every day," she laughs. "The Center is such an important gathering spot, not just for the meals and programs but also a place for people to connect."
Another of Lise's roles at the Center is to intake for new clients. "It's gratifying when we're able to get people enrolled in our programs," she says. "In many cases, they didn't know what services were available and are surprised and thank you to know what is available to help them."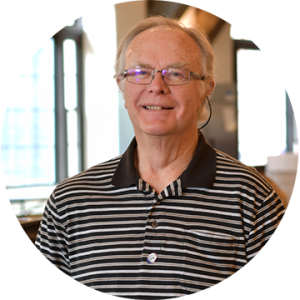 Spreading Good Cheer in the Queen City
LARRY DUTTON, Manchester, NH
Meals on Wheels Driver
"I try to make people laugh," says Larry, a MOWs driver who works out of the Carpenter Center in Manchester. "Sometimes depending on the client, I'll think of some jokes in advance. . .it's a small thing, but I think it means a lot." Larry first came to MOWs in 2006 and over his 15 years with the agency, has served hundreds of clients across Manchester, Auburn and Bedford-among other towns. In addition to delivering meals, he helps with packaging and set up, often double-checking his client's meals to ensure they get what they need.
Beyond what he calls "the satisfaction from doing the work," Larry very much enjoys the team dynamic at Carpenter Center. "It's a wonderful group of the people," he shares. "There's a real sense of camaraderie here." Like many drivers, Larry is acutely aware of the issues some MOWs clients face around social isolation, especially in the wake of the pandemic. He estimates that a visit can average about 10 minutes, but he's not one to check the clock when interacting with a client. "I try to spend the time I think they need," he says.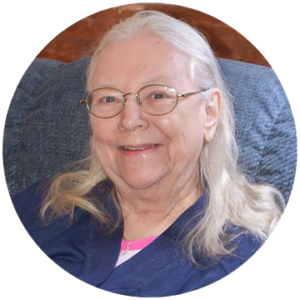 A true blessing
LESLEY, Newport, NH
Client
Unable to drive due to a medical issue, retired photographer Leslie calls Meals on Wheels "a true blessing.  The food choices are outstanding."
She shared that as she gets back on her feet, the home deliveries of meals and companionship from the drivers has been an important part of her recovery.  She doesn't have family in the area and says "it's reassuring to know that meals are taken care of.  This makes a big difference to me in my life."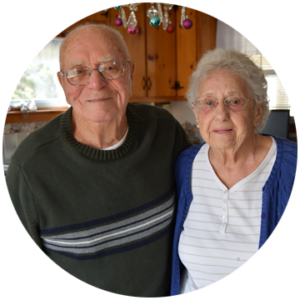 They're really a great help
HAZEL AND JOHN, Newport, NH
Clients
Married 74 years, Hazel and John are plenty active, but do appreciate some help with meals.  On this day, they took a break from some household chores to share their experiences with the Meals on Wheels program.
"We enjoy all of the food," says John, who is 92.  "And it's always fun talking to the drivers."
For her part, Hazel, who is 91, likes the program as it's hard to make dinner some days.  "This really is a great help to us," she said.  Like John she says all of the food is great but added" the macaroni and cheese is my favorite."
"This really is a great help to us," she said.  "I don't know what we'd do without them."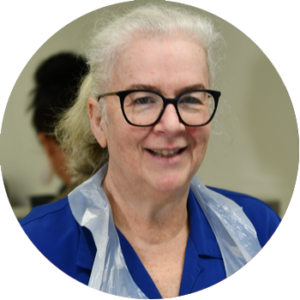 Giving Back
ALICE, Rockingham Nutrition and Meals on Wheels
Staff
A member of the MOWs team for 6 years, Alice says she enjoys all aspects of her job coordinating staff and volunteers and ensuring all the meals come out in a timely fashion.
"We're a wonderful team and all here for the same reason," she says. "In some cases, our family members have been clients, so we have first-hand knowledge of the impacts of meals being delivered."
"Very often we're helping people be able to stay at home, and that's where they want to be," said Alice. "Our clients have worked hard their whole lives and now need a little help. That is why we are here."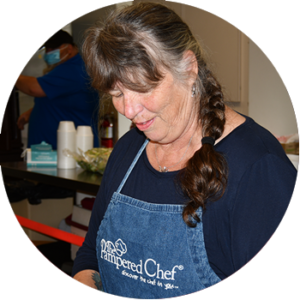 Caring Deeds
PATTI, Rockingham Nutrition and Meals on Wheels
Staff
Motivated by her own experiences with her parents having been MOW's clients, Patti brings that history to her work at the Exeter center. "I know first-hand the positive impact the deliveries had for my folks and other relatives. It is not just the food; it is the companionship."
Retired from a career in the banking industry, Patti calls the Exeter Center "my happy place. The atmosphere is wonderful. We have a great team here and the staff and volunteers are united in helping to take care of older adults," she says." And we laugh a lot along the way."
In addition to serving as a gathering place for congregate dining (still on the rebound post-pandemic), the center hosts other activities such as chair exercise and bingo. They also offer transportation for shopping trips and doctor visits.
A team effort
KEN AND LINDA JONES, Ossipee, NH
Meals on Wheels Volunteers
Married over 30 years, volunteers Ken and Linda Jones fully embrace the Meals on Wheels mission. "You get to meet wonderful people," Linda says. "Over time you learn about their families. . .we have the best conversations."On this day, the Jones's will cover more than 30 miles over three hours on their route which stretches from the town of Ossipee to towns in the shadow of Mt. Washington. Ken says "it's a great feeling knowing we are helping people. They look forward to seeing us."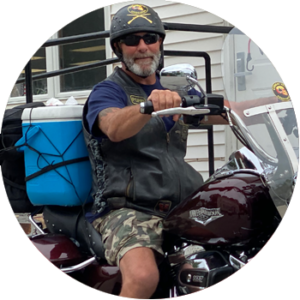 Mission on Two Wheels
SEAN, Rockingham Nutrition and Meals on Wheels
Volunteer
Retired from the military where he spent several years as an Army Ranger, MOW's driver Sean has a unique mode of transportation for meal delivery- a motorcycle. Loading his saddlebags with meals and despite all forms of foul weather, he always gets the job done. And his motorcycle is often a point of conversation with some clients. "Some of the folks I deliver to either rode at one time, or just like motorcycles," he said. "Sometimes with new clients, it can be an icebreaker."
He also jokes that with his motorcycle, "there's never a problem finding a parking space" and added that over time, he's built relationships on many levels with Meals on Wheels Clients. During his rounds, he sometimes meets fellow veterans which spurs conversations unique to those who served; he also gets to know people's pets. "In some cases, you really are part of someone's daily routine, and you know they look forward to seeing you," he says.
"When I deliver meals to people and spend some time with time with them, it really makes their day in some cases," said Sean. "I'm not there for a long period of time, but you can tell it means a lot."